Not everyone stresses over what to wear to their own wedding.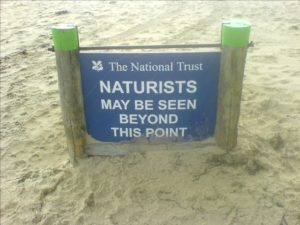 Not everyone stresses over how to dress the wedding party.
Not everyone thinks about how the parents' outfits will look together in wedding pictures.
There are some who feel that being clothed in the sky is the best way to dress for one's wedding—that is to say that they want to get married naked. Nudity is how we come into this world, and there are those who want to mark this profound rite of passage dressed in the same way.
I officiate naturist and nudist weddings. It's not my place to tell you how to dress for your own wedding, or to tell you what to ask your wedding party or guests to wear, either. I support the idea that not wearing clothing is natural and healthy, even though it's not a lifestyle I practice.
Tips for planning a nudist wedding
Communicate with your wedding party, vendors, and guests as early as possible. Make sure everyone who will be attending or participating understands who is expected not to be wearing clothing, and when. Be prepared to answer all questions, even if they seem silly: this can be a way that your loved ones process a new experience.
Make plans without pockets:

rings, handfasting cords, and other items either need to be carried by hand, or placed up front ahead of time.
if you're writing your own vows, make sure your attendant is ready with a copy for you to read—even if the plan is to memorize them. Memories can fail when you're nervous.
make sure that there's a pen available, for signing the marriage license

Have sunscreen available if the ceremony or reception will be outside, especially if some of your guests don't spend as much time in the sun as they may on your special day.
No matter how you wish to dress for your wedding, I will work with you to create the ceremony that roots you in the magic of this moment. Contact me for a quote.